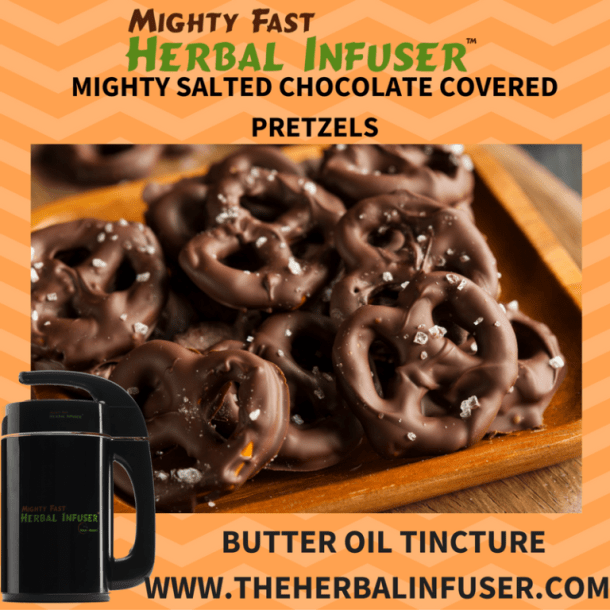 Mighty Chocolate Salted Pretzels
Ingredients:
12 pretzels of choice (sourdough, gluten free or pretzel rods)
1 cup Mighty Fast chocolate sauce: 1/2 cup Mighty Fast coconut oil, 1/4 cup pure maple syrup, 1/2 cup raw cacao or cocoa powder, 1/2 teaspoon vanilla extract
1 teaspoon sea salt
Preparation:
After infusing coconut oil in The Mighty Fast Herbal Infuser, set aside above amount to cool. To prepare Mighty Chocolate Sauce, warm coconut oil over low medium heat in medium sized pan. Add in maple syrup, vanilla and cacao powder and mix until chocolate sauce is well blended. Remove from heat and allow to cool for 10 minutes. Place a large piece of waxed or parchment paper over a large cookie sheet. Dip pretzel into chocolate sauce, allow excess to drip off and then place pretzel gently down on waxed paper. Repeat until all pretzels are coated with chocolate. Sprinkle salt over pretzels. Place cookie sheet into refrigerator for up to an hour or until chocolate hardens onto pretzels. Gently peel chocolate covered pretzels off of waxed paper and serve immediately.