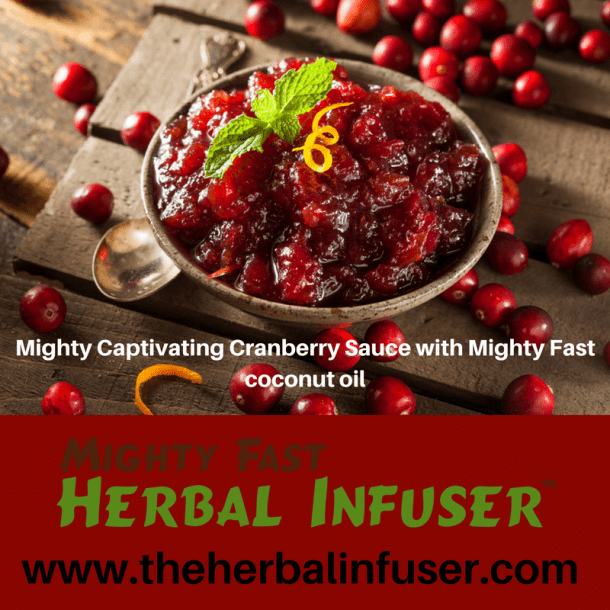 Mighty Captivating Cranberry Sauce
Ingredients:
1 12 ounce bag fresh cranberries
½ cup honey (optional: use Mighty Fast honey if made)
1 1/2 tablespoons Mighty Fast coconut oil
Zest from ½  fresh orange
1 tablespoon freshly squeezed orange juice
1/4 cup chopped walnuts
1/2 cup mandarin oranges or 1/2 cup fresh chopped oranges
1 tablespoon cornstarch
Preparation: After infusing coconut oil in The Mighty Fast Herbal Infuser, set aside above amount to cool. Remove cranberries from bag and rinse thoroughly. Dry cranberries and place in a medium sized pan over medium low heat. Add in honey, coconut oil, orange zest and orange juice. Stir frequently cooking until cranberries open up approximately 10-12 minutes. Add in chopped walnuts and chopped oranges. To give classic gel texture to sauce slowly sprinkle in cornstarch while constantly mixing sauce, during the last few minutes of cooking.