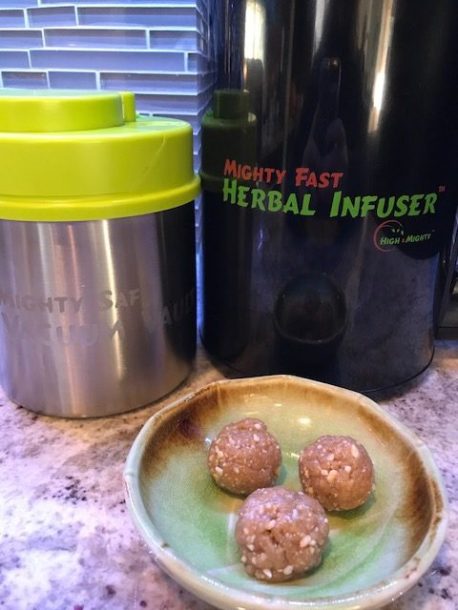 Mighty Chewy Cashew Balls
Ingredients:
2-3 tablespoons Mighty Fast sweetener; VG tincture, honey or agave
1 1/2 cups whole raw cashews
Preparation:
After infusing VG, honey or agave in the Mighty Fast Herbal Infuser, set aside above amount to cool. In a food processor pulse cashews, stopping to scrap down the sides, until cashews begin to break apart and become the consistency of nut butter. Add in Mighty Fast sweetener, pulse a few times to incorporate. Using a tablespoon, scoop out and roll into a balls. Place balls onto a cookie sheet lined with parchment paper and place in refrigerator for a few hours or until balls harden. Optional: roll balls in chia seeds, hemp seeds or mini chocolate chips before putting into refrigerator. Will stay good in fridge for 2 weeks.
these are deceivingly delicious so eater beware!