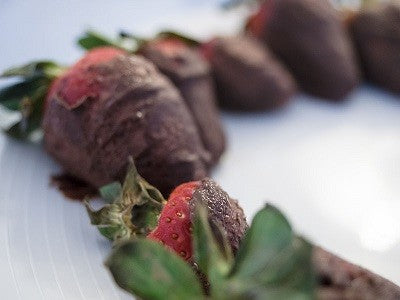 Mighty Chocolate Covered Strawberries
Ingredients:
12 large strawberries
1/2 cup Mighty Fast coconut oil
1/2 cup unsweetened cocoa powder or raw cacao powder
1/2 cup pure maple syrup
1 teaspoon vanilla extract
Optional toppings: shredded coconut, chia or hemp seeds, sprinkles
Preparation:
After infusing coconut oil in The Mighty Fast Herbal Infuser, set aside above amount to cool. In a medium sized pan over medium low heat warm coconut oil, cocoa or cacao powder and maple syrup, stirring constantly just until blended into a chocolate sauce.  Remove chocolate sauce from heat. Wash and dry strawberries well. Line a large plate with wax or parchment paper. Hold the stems of the strawberries and dip bottoms and most of tops into chocolate sauce. Allow excess chocolate to drip off then carefully place dipped strawberry onto wax paper. Continue to dip strawberries into chocolate sauce until all strawberries are coated in chocolate. Sprinkle optional toppings over strawberries then place in refrigerator for at least an hour or until chocolate sauce hardens.