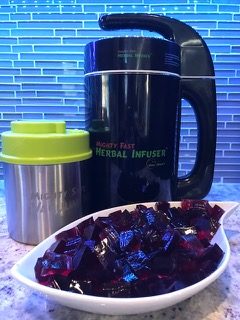 Mighty Fast GUMMIES
Ingredients:
3 tablespoons Mighty Fast tincture (alcohol or VG) or Mighty Fast sweetener (honey or agave)
3 cups sweetened juice (any flavor except pineapple or citrus)
6 tablespoons gelatin
optional: 1 cup sugar for rolling gummies in
Preparation:
After infusing VG, alcohol, honey or agave in Mighty Fast Herbal Infuser, set aside above amount to cool. In a large saucepan over medium low heat, warm juice to just prior to boiling. Do not boil juice. Remove from heat and slowly whisk in gelatin mixing well so gelatin does not clump. Mix in Mighty Fast tincture or sweetener. Allow mixture to rest for 5 minutes. Carefully pour into silicone molds or into a large glass dish then place in refrigerator overnight. Gummies will harden and be ready by the next day. Remove from mold or cut into desired shapes and roll in sugar. Store in Mighty Safe Vacuum Vault in refrigerator up to one month.