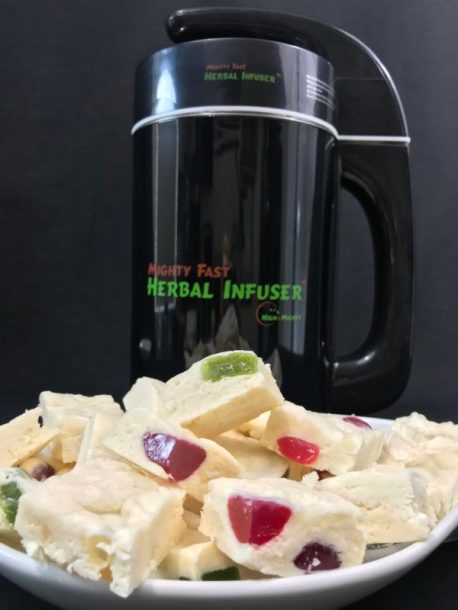 Mighty Fast Naughty & Nice Nougat
Ingredients:
1/4 cup Mighty Fast butter or coconut oil
1 10 ounce bag marshmallows
1 12 ounce bag white chocolate chips
1/3 cup small gummies (red & green, blue & white or whatever color of choice)
Preparation:
After infusing butter or coconut oil in the Mighty Fast Herbal Infuser, set aside above amount to cool. In a large deep sauté pan over medium low heat, warm butter. Add in marshmallows and stir constantly until marshmallows are beginning to melt. Add in white chocolate chips and continue to stir constantly to prevent burning until all marshmallows and chocolate are melted. Mix in gummies and remove from heat. Pour nougat into a parchment lined 8×8 inch pan and gently press down to flatten and spread nougat evenly. Place in refrigerator for 1 hour or until firm to touch. Remove from refrigerator, lift out parchment paper and place nougat onto a cutting board. Cut into desired pieces before serving. Store leftovers (doubtful there will be any!) in an airtight container in the refrigerator for up to 2 weeks.