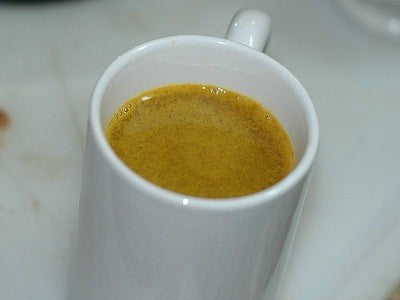 Mighty Golden Turmeric Milk
Ingredients:
1 cup Mighty Fast milk (non dairy nut milk or regular)
1 teaspoon ground turmeric
1 teaspoon freshly grated ginger
1 teaspoon cinnamon
2 tablespoons raw honey
Dash of black pepper
optional: 1-2 tablespoons raw cacao powder
optional: 1 teaspoon coconut oil
Preparation:
After infusing milk (any variety: coconut, cashew, almond, hemp or dairy) in The Mighty Fast Herbal Infuser, set aside 1 cup to cool. In a small pan over low heat add milk, turmeric, ginger, cinnamon, honey, cacao and coconut oil if using and heat gently stirring often. Golden milk should be warm within 5 minutes of heating. Remove from heat and carefully pour into a mug. Dash black pepper on top and drink immediately.
*black pepper helps the body absorb the curcumin in turmeric so it is recommeded to add it to this drink.