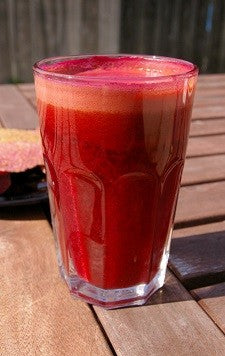 Mighty Magnificent Juice
This recipe requires a juicer or high powered blender that can pulverize whole veggies
Ingredients:
2 tablespoons Mighty Fast coconut oil
1 tablespoon Mighty Fast honey
1 large beet
1 large apple
1 cucumber
1 chunk fresh ginger (about 1 inch)
3 large carrots
1 tablespoon chia seeds (optional)
Preparation:
After infusing coconut oil and honey in The Mighty Fast Herbal Infuser, set aside above amounts to cool. Wash, peel and dry all above ingredients. Using a juicer or high powered blender, place all of the above into your blender and juice or pulverize. Make sure coconut oil and honey are warm and in liquid form. Pour coconut oil and honey into a large tall glass. Pour juice over oil and honey and chia seeds if using and mix gently to combine. Drink immediately.