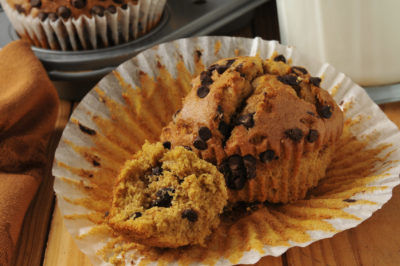 Mighty Pumpkin Chocolate Chip Muffins
Ingredients:
1 cup Mighty Fast butter or coconut oil, melted
2 cups sugar (coconut, raw or regular)
1/2 cup maple syrup
3 eggs
3 cups flour (use regular all purpose, gluten free, or 2.5 cups almond meal + 1/2 cup coconut flour)
1 tablespoon baking powder
1 1/2 teaspoons baking soda
1 tablespoon pumpkin spice (cinnamon, ginger, nutmeg, clove, cardomom)
2 teaspoons cinnamon
1 teaspoon vanilla extract
1 16ounce can pumpkin puree
1 cup chocolate chips
optional: 1/4 cup dried cranberries or 1/4 cup pumpkin seeds (pepitas)
Preparation:
After infusing butter or coconut oil in The Mighty Fast Herbal Infuser, set aside 1 cup to cool. Preheat oven to 350 degrees Fahrenheit. In a medium sized bowl, cream together butter or oil with sugar. Beat in eggs and blend well.  In another bowl, using a strainer, sift all dry ingredients together to get out all lumps. Combine dry mixture into egg mixture. Add in vanilla, pumpkin and maple syrup. Add in chocolate chips. Grease muffin tins with additional Mighty Fast butter or coconut oil making sure bottom and sides of tins are well greased. Using a tablespoon, spoon pumpkin mixture into tins filling 3/4 of the way to the top. Bake in oven for 15-20 minutes or until toothpick inserted into middle comes out clean. Remove from oven and allow to cool on wire racks.